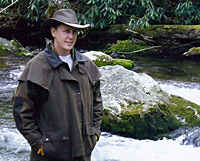 Rose Court Farms was re-established as a business entity in August of 1998 between father and son. Many years and a lot of sweat later the facility has quietly built a reputation for having a safe, worry-free environment to keep horses. Rose Court Farms was orginally purchased in 1905 as a tea farm by Swedish emigrants, Otto and Enda Hoffman (pictured at right) who named the farm Rose Court. It did not take them long to discover that the land would not sustain a tea plantation, at which point most of the acreage was allowed to return to forest. About 20 acres was still farmed or used for pasture until the early 60's, when the grandchild (Earl Browning) of those Swedish emigrants started a small horse operation. Earl's nephew, Robert Browning (pictured above) is the 4th generation stewards of the family land and business. The Hoffmans are Robert Brownings great grandparents.

Our Company

Rose Court Farms was restarted from the foundation built by Earl Browning (pictured at right with his Stallion, Bachelor's of Music). When I (Rob Browning) started there were a couple of rather tired looking buildings and a lot of barbed wire fencing. Now, I can say with some pride, that I have removed all of the barbed wire and replaced it with three rail wooden fencing, completely overhauled the old barn. We have built several run-in sheds and storage buildings, added arena lights for night riding, built a 70' round pen and have added two large pastures and a new 10 stall barn to accommodate the farm.

At Rose Court Farms, I pride myself on quality horse care, I feel that happy horses make for happy boarders. This is reflected through our low turn over rate. Most who board here only leave when they can start caring for thier horse on thier own property.

Earl Browning opened one of the very first tack shops in South Carolina. In addition to running a successful tack shop, Earl bred and broke horses, sold feed and made leather goods. He helped establish the South Carolina Chapter of the Pinto Horse Association and allowed horse shows on the property until his death in July of 1996. Earl's first love was his horses. He was widely regarded for his immense knowledge of the horse.